Online shop opening very soon!


The art of aromatherapy is a unique way of releasing the natural healing and recuperative plant essences which have long been esteemed for their therapeutic qualities.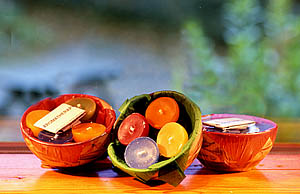 Our range of "Aroma Floaters" offers you a selection of the most efficacious of these essential oils - Lavender, Rosemary, Ylan Ylan, Geranium, Lemon Grass, Clary Sage and Eucalyptus. Each Floater is colour coded against its essential oil and is designed to be lit when floating in a bowl of water. It will burn for sixty minutes. A full selection of 7 Aroma Floaters is packaged in each of our specially designed "Aroma Water Bowls", and replacement Aroma Floaters are available to the Trade in baskets of 35.
We also offer two Trade Packs - The "Aroma Starter Pack" which comprises 7 complete Aroma Water Bowls with a basket of 35 assorted replacement Floaters, and a full "Aroma Retail Pack" which comprises 20 complete Aroma Bowls together with the full range of 7 baskets of Aroma Floaters.
Our Aroma Tulip Bowls are larger non-floating aromatherapy candles contained in tulip-shaped bowls of recycled glass (available in green or blue - please state if you have a preference).
More about Aromatherapy
Our Current Aromatherapy Range